Kwasia like that, Aboa, Asamoah Gyan descends on a follower who made some unnecessary comments under a video he posted.
Asamoah Gyan is a Ghanaian professional footballer who plays as a striker and is the former captain of the Ghanaian national team and a player for Legon cities, a sports club in Accra after being rumored to have been offered $150000 to join the Ghana Premier League team.
In 2018, the Sun and Daily Mail reported that the 34-year-old was bankrupt with only £600 in his bank account.
I guess all this huge amounts does not mean he would not respond to a savage comment under his post.
Gyan posted a video with the caption: "I had to do some small jama with the guys @legoncitiesfc after our big win yesterday. @jomens25 also came to greet the guys and also decided to join the fun cos he knows what Babyjet can do. Congratulations guys. We move to the next."
Have a look at the video which generated the unwarranted insult below.
The follower who wanted to funny and savage asked whether Asamoah Gyan was signed for Jama or football games.
"Ah, was Asamoah Gyan signed for jama or football games," the follower asked.
In a response, Asamoah sent some harsh words which would make his day very bad.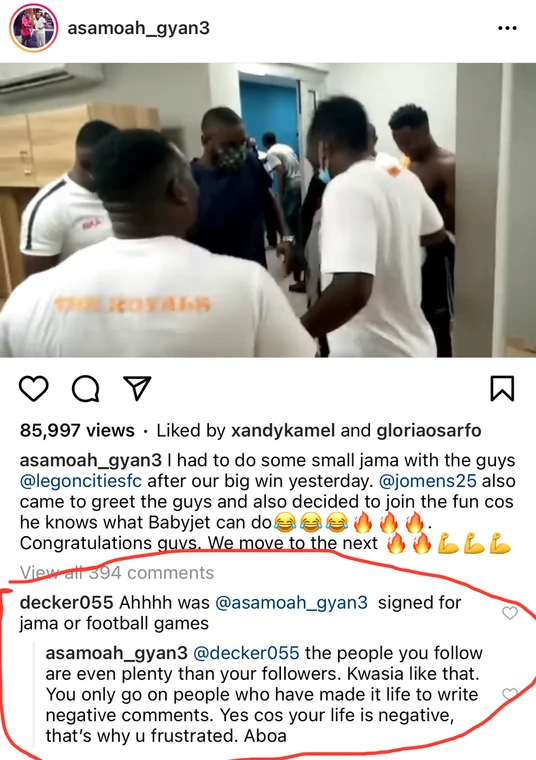 "The people you follow are even plenty than your followers. Kwasia like that. You only go on people who have made it on life to write negative comments. Yes, because your life is negative, that's why you are frustrated. Aboa" he fired back.