I will always stand by him,Chairman Wontumi consoles Lawyer Maurice Ampaw after his wife died yesterday.
News went around yesterday that Private legal practitioner, Maurice Ampaw, lost his wife named Evelyn Ampaw.
According to the popular lawyer, got married to his childhood friend after they dated for 15 years.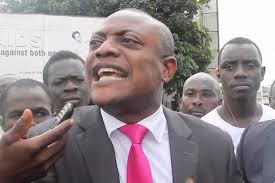 His wife was the financial backbone of their family for two years after their marriage.
"When I tied the knot to my wife, I was not a lawyer and had to save money for school. I did not leave housekeeping money," he said.

Aside from their financial difficulties, lawyer Ampaw and his wife had to wait for ten years before they were gifted with children.
The lawyer said the wife has been the major pillar in his career and life as a professional lawyer.
According to the lawyer despite the advice, his wife never gave up on him and it is one of the reasons he cherished her.
Chairman Wontumi during an interview on Wontumionline.com said
"When I go on knees I will pray for God to provide strength for my good friend and brother Maurice Ampaw. I am saddened by the news but I know God will see him through. As a brother, I will always stand by him. My deepest condolence to him and his family", 
May her soul rest in peace, we will never forget her.