Akuapem Poloo naked photo with her son causes confusion between religions.
Akuapem Poloo naked photo with her son gets uploaded onto the internet and there has been a mixed reaction between Ghanaians.
Man Abandons Wife After She Gave Birth To A 5th Girl Child(Opens in a new browser tab)
To celebrate her son's birthday, social media star Akuapem Poloo born Rosemond Brown did a photoshoot with her son while she was stark naked.
She Wrote:
Son today reminds me of the very day I gave birth to you with no stress and with no regret…..30th June 2013 exactly 4:46am Sunday Haha I still remember this date paa because it's really meant a lot to me, I only felt the 30 minutes pain when you were turning to come out??? you were soo good to me. I gave birth with no complication, no cut no disability Haha I love you son. You see how you looking at me? always remember that I love you?‍❤️‍? I'm naked in front of you because this is how naked I was giving birth to you, so in case you find me naked lying somewhere don't pass by me but rather see me as your mom who brought you to life.
Have a look at the photo.
My Aunt Sold My 1-Month-Old Son For GH¢ 14K – 20-Year-Old Orphan Recounts(Opens in a new browser tab)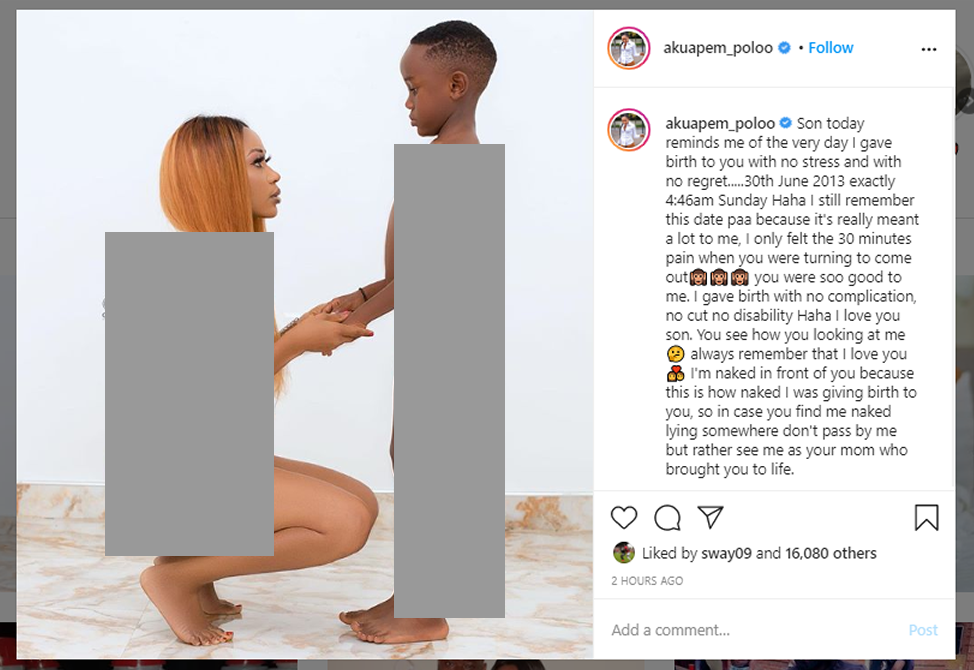 Below are some reactions
She explained that she was naked because that was how she was when giving birth to him.
Akuapem poloo ne gyemii.. Aden aa I was naked when I gave birth to you, kwasiakwa
So the child had sopota(jockstrap) on when you born am.. Wagyemi-awou

— big 4teen (@ReenzelRich) June 30, 2020
Imagine Shatta Wale, Stonebwoy or Sarkodie w/ their daughters being the characters in Akuapem Poloo's photo. The so called femists will pull their mouths like borla bird go come talk a whole lot of bs …

— Kwahu Borga (@6glocck) June 30, 2020